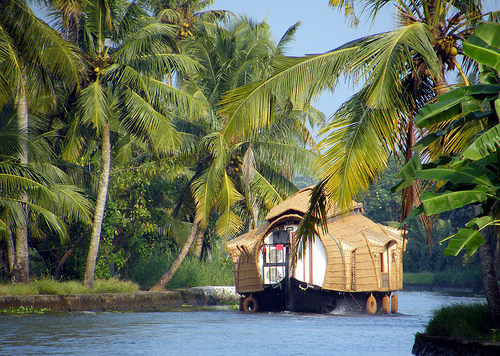 Being an ideal Kerala Tourism destination with Backwater boat races, Alappuzha is eligible to be tagged with the adjective 'picaresque' (which is often misused in abundance). Once famous as the Venice of the East, Alappuzha has a tradition of trade, trade unionism and communism. The city is mostly known for its canals, lagoons, backwaters, beaches and above of all the stunning boathouses.  Alleppey sightseeing is surely the most captivating activity to do which offers the tourists a chance to explore the soothing effect of backwater tourism. Alleppey offers a number of attractive places to visit which include the Alappuzha Beach, Arthunkal, Punnapra, Pathiramanal etc. Alappuzha, with its splendid backwaters and other catching destinations, is definitely suitable for any type of travelers and is surely one among the most perfect tourist place in Kerala.
Travelers flock here, following the luring call of the Vembanadu Lake. The houseboat rides gifts travelers more than a reason to be happy and there are numerous Kerala Backwater packages that strive to offer tourists the best that the place has to offer. Night cruises in a traditional houseboat on the romantic backwaters of Alappuzha with only the soft splashes to disturb the peace and silence is indeed an experience that one will remember for a lifetime. Kuttanad, the rice bowl of Kerala, offers travelers the pristine beauty of rural life in Kerala Tourism and is another great place to visit in Alleppey.
The Nehru Trophy Boat Race held at Alleppey features the majestic Snake Boat race of Kerala at their flashy best, competing for the coveted prize. Get a hand with an Alappuzha map and schedule a visit to one of the major tourist attractions in Kerala so that you may not miss the greatest water sport event in the world.Come to this extreme nature treating point at the God's own country and feel the pristine beauty lying in the insides of Alappuzha followed by the prestigious backwaters and house boats that can take one to the heavens of delight.