Boasting a glorious heritages and ample traces of colonialism, Kochi is more or less an urban slice of Kerala history… Divergent culture, bustling life and remarkable natural beauty, altogether makes Kochi an ideal tourist destination.
Kochi – Cochin to the western world – also known as the Queen of Arabian Sea, is a perfect anchor point to start exploring the mysterious natural beauty of Kerala and is rated among the top three tourist destinations in the world by the World travel and Tourism council. Cochin tourism has managed to attract various kinds of travelers from different parts of the world with its amazing tour packages and matchless beauty. A passionate traveler can watch how the city speaks about its bygone history of foreign association and settlements through the historic buildings. The Chinese fishing nets, the Hill palace, Bolghatty palace, Dutch palace (also known as Mattancheri palace) and Jew Street reminds the eventful colonial era of Kochi.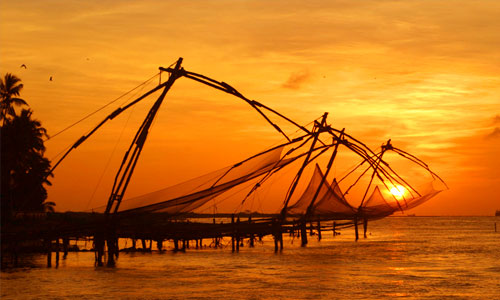 The Vembanad Lake nicely intertwines with the landscape of Kochi creating Cochin islands and plenty of boating options in Cochin backwaters. For an ardent beach lover, Fort Cochin beach and Cherai beach offer idyllic destinations. Cochin Synagogue, Santa Cruz Bascilaca are some famous and old buildings in Fort Cochin with memories from history etched in every stones. Marine drive, which offers Cochin harbor view, is the favorite spot for lovers and one can enjoy the magnificent beauty of nature when sun dives into the sea turning the day into night. Cochin Shipyard, Cochin Port Trust and Cochin Refineries are some of the major industries in Ernakulam. South India's largest amusement park, Veega Land (now known as 'wonderla') offers a thrilling day for families and children alike, with plenty of entertainments. Every Cochin tourist spots gives an opportunity to explore the different cultures emerged with the time. Cochin weather is also tempting like its amazing beauty. Even the words fall short to explain the adorable beauty of Cochin. And that's a fine example to explicate why Cochin is called as the "Gateway of Kerala". Kochi International airport, one of the major airports in the country, is situated 30kms north-east from the city.